When dealing with things that are far removed from everyday experience, everyday notions and words will not necessarily suffice. We have to be careful to acknowledge exactly what we're saying, both explicitly and implicitly. You may think that this is of little consequence because the far-removed situations have no noticeable effect on normal everyday experiences. But that's not necessarily true either.
---
Here's an example, to make the point:
The Lorentz Transformations
Special Relativity predicts that things that are moving, and the spaces between them, become shortened in the direction of motion as measured by the things relative to which they are moving. At the normal sensible speeds with which we're familiar this effect is far too small to be measurable. So it's not susceptible to understanding by what we call "common sense" - the aggregate of years of everyday experiences. It seems weird and difficult to believe because we're wholly un-used to it happening.
But, even so, it results in effects that
do
occur in our normal everyday lives. One such effect is magnetism.
Magnetism
The easiest way to understand this is to think of electrons travelling through a wire - an electric current. As we know from high school physics, when an electric current flows through a wire it causes a magnetic field around that wire - a magnetic force is exerted on other electric charges.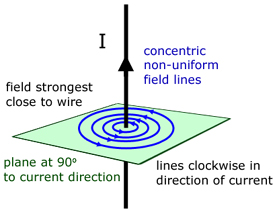 This is in addition to any electrostatic forces. The underlying reason for this mysterious extra force is the Lorentz contraction. The negatively charged electrons are moving relative to the positively charged ions in the wire. So this stream of electrons contracts, very, very slightly. They get very, very slightly closer together. This slightly increases the negative charge density and results in a sort of "extra" electrostatic force, which we know as the magnetic force.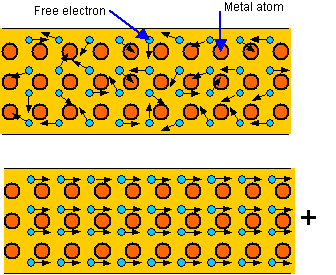 Now, the drift speed of the electrons which comprise a typical electric current in a wire is very slow (a snail's pace), and the Lorentz contraction is normally only noticeable at speeds comparable to that of light. So this Relativistic contraction must be
truly, truly
tiny. And so it is.
But
the magnitude of the electrostatic force is correspondingly huge. Billions upon billions of times stronger than gravity. The reason why we don't notice this, and tend to think of gravity as dominant, is that positive and negative electric charges tend to be very finely balanced and, to a high degree of precision, cancel each other out. In any situation where this is not so, large forces are exerted whereby they quickly rearrange themselves so that it
is
so.
A case in point is this well-known back-of-a-beermat fact: If the difference between the electrostatic charge in your head and body were 1%, the resulting electrostatic repulsive force between the two would be enough to propel your head clean out of the solar system.
This being the case, it only takes a very tiny increase in electric charge density (number of electrons per unit length of wire) to create a measurable extra (magnetic) force.
The Combination of Extremes Resulting in the Ordinary
So, what we have here is
two
extreme (on human scales) phenomena that we don't normally experience directly - the huge magnitude of the electrostatic force and the tiny effect of the Lorentz contraction. Together, they combine to create a normal-sized everyday phenomenon with which we
are
all pretty familiar - magnetism. But it takes an appreciation of the extreme phenomena to fully understand the mechanisms for the familiar ones.
---
The Question
Are readers happy to allow that familiar, everyday phenomena are explained in terms of such combinations of seemingly outlandish and initially difficult to believe underlying mechanisms? Or do you mistrust these explanations? Is it a tenet of your philosophy that it must be possible to describe everyday things using everyday mechanisms and language?