Homo sapiens is a species of animal. We classify ourselves as members of the taxonomic family known as Hominidae or "Great Apes". We are also mammals. We share about 98% of our DNA with chimpanzees, and 92% with rats, both of which are also mammals.
Despite these uncontroversial facts, there is a long history of using the comparison between some groups of humans and other apes, rats, cockroaches and various other creatures to very effectively provoke fear, mistrust and ultimately violence against those groups. How and why does this work so very effectively? Is it because we humans like to think of the animal kingdom as a hierarchy, at the top of which we sit? Is it most effective when the comparison is between the group of humans that we seek to demonise/disenfranchise/kill and another animal species that we tend to regard as a pest, and whose extermination we therefore regard as morally acceptable?
Perhaps the most notorious use of this technique was by the Nazis against groups that they regarded as "Untermensch" (sub-humans), particularly against Jews. In this case, a powerful element of the propaganda was the assertion (using a corruption of ideas from Darwin's Theory of Evolution) that the comparisons were statements of scientific inevitability, borrowing a perception of legitimacy which helped people to accept the subsequent ill-treatment as simply following the cold, calm inevitability of "science".
But there are other examples too.
Here are some examples of propaganda images that use this technique:
Jews depicted as rats.
Jews depicted as worms.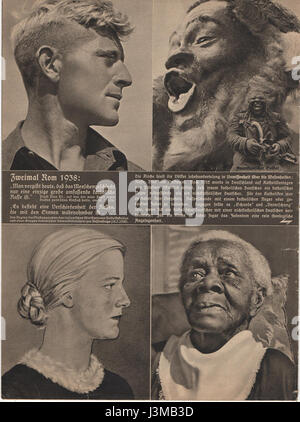 Black people depicted as apes.
---
This topic also touches on the related issue of speaking and selecting empirical truths, and the reasons for making those selections. If a person were to say "Jews have many similarities to rats" or "black people have many similarities to chimpanzees", they might say that they are simply stating facts, based on what I said in the first paragraph, above. But would anybody seriously argue that these two examples are simply value-free statements of objective fact? Does the choice of truth to be spoken and the choice to be omitted have a bearing on our judgement of the speaker and his/her purpose in speaking?