Following a topic about
whale brain vs human brain
that indicated that whales and dolphins have brain-cells that in humans are linked to conscious experience, reasoning and thinking, I hereby start a new topic dedicated to philosophy on behalf of whales and dolphins considering a potential urgency to achieve progress to understand their language.
An attempt to learn whale language has been initiated in April 2021 and it was noted that it requires philosophy, which may explain why a serious effort to understand whales and dolphins was never made until now.
Project CETI
(Cetacean Translation Initiative) dates from 2017 from scientists who intended to dive into the subject, and apparently needed to start from scratch.
(2021)
Groundbreaking effort launched to decode whale language
If humans were ever to decode the language of whales, or even determine if whales possessed something we might truly call language, we'd need to pair their clicks with the context,

which would entail a challenging inter-specie philosophical endeavor.



'They sound like Morse code'

The project CETI (Cetacean Translation Initiative) started with a marine biologist. In 2017, while a fellow at Harvard University's Radcliffe Institute, Gruber, a diver, became fascinated with after reading a book about free divers who study them. One day while listening to whale codas on his laptop, another Radcliffe fellow, Shafi Goldwasser, happened by.

"'Those are really interesting—they sound like Morse code,'" Gruber recalls Goldwasser saying.
https://www.nationalgeographic.com/anim ... -of-whales
Philosopher John Lilly founded the Communication Research Institute in the late 1950's and published research suggesting that his attempts to talk to dolphins were working.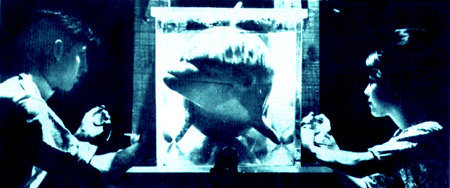 "
The feeling of weirdness came on us as the sounds of this small whale seemed more and more to be forming words in our own human language. We felt we were in the presence of Something, or Someone who was on the other side of the transparent barrier
" ~ philosopher
John C. Lilly
https://www.johnclilly.com/
The following website, founded in 2016, provides an overview of the latest whale and dolphin science which again indicates that major initiatives to understand them are fairly new.
https://whalescientists.com/
(2021)
What do we know about intelligence in whales and dolphins?
"
Could whales be as smart, if not smarter, than humans?

Cetacean brains are surprisingly similar to our own. Orcas, for example, show cerebral folding that is more impressive than in humans. This helps them process more information at remarkable speeds. Moreover, this particular species presents the most complex insular cortex in the world. This part of the brain is involved in consciousness and self-awareness as well as processing emotions such as empathy and compassion.
"
https://whalescientists.com/intelligenc ... -dolphins/
In the following article on dolphin intelligence and the future of philosophy, it is suggested that the ultimate state of being for life forms is to become something like a whale.
(2021)
Dolphin intelligence and the future of philosophy
We don't see evidence of supercivilisations across the galaxy because the only ones that persist are the ones that give up the risky path of technology and instead pursue immersion in nature.

Ageing civilisations either self-destruct or shift to become something like a whale. The Russian astrophysicist Vladimir M Lipunov speculated that, across the Universe, the scientific mindset recurrently evolves, discovers all there is to know and, having exhausted its compelling curiosity, proceeds to wither away and become something like a whale.

By 1978, the philosophers Arkadiy Ursul and Yuri Shkolenko wrote of such conjectures – concerning the 'possible rejection in the future of the "technological way" of development' – and reflected that this would be tantamount to humanity's 'transformation into something like dolphins'.
https://aeon.co/essays/dolphin-intellig ... mic-future
Are whales deep thinkers?
Whale and dolphin brains contain specialized brain cells called spindle neurons. These are associated with advanced abilities such as recognising, remembering, reasoning, communicating, perceiving, adapting to change, problem-solving and understanding. So it seems they are deep thinkers! Not only that, but the part of their brain which processes emotions (limbic system) appears to be more complex than our own.
https://www.newscientist.com/article/dn ... -us-human/
--
Considering the potential that whales and dolphins have a physiological capacity that could allow them to be more intelligent than humans, it may be important that the human is able to recognize and understand their intelligence if they ever hope to discover, appropriately recognize and understand extraterrestrial life.
1) if whales have a language that is more complex than that of humans, how could humans possibly learn to understand it?
2) are there philosophers that dedicate to whales and dolphins today?
3) what purpose could advanced brain technology serve for a life as a whale or dolphin?